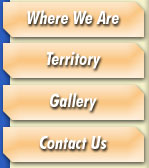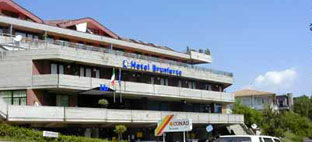 Hotel Brunforte guarantees their clients a secure service in a hospitable family atmosphere, thanks to the Compagnucci family owners, already well known for their Hotel Restaurant La Marchigiana and Hotel Terme.

The Hotel Brunforte in its completely refurbished building holds a central position for those who wish to stay in the centre of Sarnano and make trips to the surrounding areas.

The Hotel Brunforte has 20 rooms arranged in a modern, functional way. Their sevices include: telephone, TV, fridge-bar, air conditioning, toilet,shower. The rooms are on one floor and easy to access.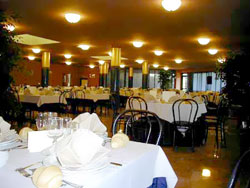 The restaurant can accomodate up to 600 persons and has kept the original architectural style, both in its colours and its fittings. Ideal for wedding banquets, ceremonies and meetings, the building is air conditioned. A large well organized bar is situated next to the Congress Hall.

The Congress Hall (up to 400 seats), adjacent to the Hotel is used for reunions and meetings of all types of groups.

As well as a large car park the hotel can arrange garage parking. In the high season the guests can use the restaurant as they wish whilst at other times the hotel works as a Bed and Breakfast.